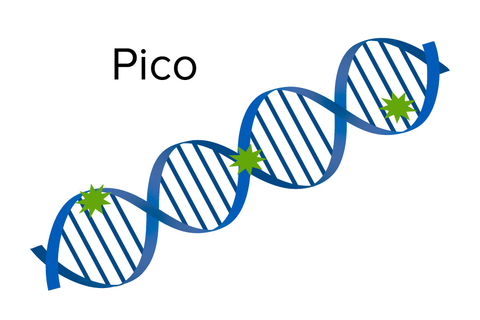 SpectraMax® Quant™ AccuBlue™ Pico dsDNA Assay Kit
---
---
Please note: All purchases should be limited to United States.
For complete Terms and Conditions, please click here.


---
The SpectraMax® Quant™ dsDNA Assay Kits are designed for fluorescence-based dsDNA quantitation across a broad range of concentrations. Tailor to your different needs, these assay kits are configured and optimized for Molecular Devices SpectraMax® microplate readers, with preconfigured protocols provided in SoftMax® Pro Software for simplified data acquisition and analysis.
Available Configurations:
Product Name
Description
Part Number
SpectraMax® Quant™ AccuBlue™ Pico dsDNA Assay Kit
Explorer Kit

Fluorescence-based DNA assay kit that detects dsDNA from 5 pg to 3 ng.


Sufficient for (2) 96-well plates.
R8354
SpectraMax® Quant™ AccuBlue™ Pico dsDNA Assay Kit
Bulk Kit

Fluorescence-based DNA assay kit that detects dsDNA from 5 pg to 3 ng.


Sufficient for (10) 96-well plates.
R8355
---
We Also Recommend