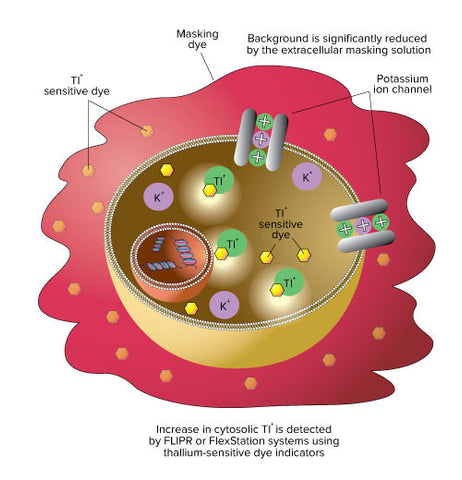 FLIPR Potassium Assay Kit
---
---
Please note: All purchases should be limited to United States.
For complete Terms and Conditions, please click here.


---
The FLIPR Potassium Assay Kit exploits the permeability of thallium ions (Tl+) through both voltage- and ligand-gated potassium (K+) channels. In this assay, a novel, highly-sensitive Tl+ indicator dye is utilized which produces a bright fluorescent signal upon the binding to Tl+ conducted through potassium channels. The intensity of the Tl+ signal is proportional to the number of potassium channels in the open state; therefore it provides a functional indication of the potassium channel activities. In addition, one of our proprietary masking dyes is employed to further reduce background fluorescence for improved signal/noise ratio.
Functional measurement of potassium channel activity in a cell-based assay
Homogenous no-wash protocol reduces well-to-well variation and simplifies the workflow
Expanded signal window compared to non-homogenous assay
Rapid procedure with less hands‐on time
Available Configurations:
 Configuration
Description
Part Number

Explorer Kit

(10) Vials of Component A

(1) Bottle of Component B* assay buffer HBSS + Ca

2+

, Mg

2+ 

and 20 mM HEPES, pH 7.4




(10) Vials of Component C




(1) Bottle of 5X chloride-free assay buffer




(1) Bottle of potassium sulfate solutin (200 mM)




(1) Bottle of thallium sulfate solution (50 mM)







Each kit contains enough material for ten (10) 96-well or 384-well microplates. Each vial is sufficient for one (1) microplate experiment.

(R8222)

Bulk Kit

(10) Vials of Component A




(10) Vials of Component C




(1) Bottle of 5X chloride-free assay buffer




(1) Bottle of potassium sulfate solutin (200 mM)




(1) Bottle of thallium sulfate solution (50 mM)

Each kit contains enough material for one hundred (100) 96-well or 384-well microplates. Each vial is sufficient for ten (10) microplate experiments.

(R8223)

Evaluation Kit

(2) Vials of Component A

(1) Bottle of Component B* assay buffer HBSS + Ca

2+

, Mg

2+ and 20 mM HEPES, pH 7.4

(2) Vials of Component C

(1) Bottle of 5X chloride-free assay buffer

(1) Bottle of potassium sulfate solutin (200 mM)

(1) Bottle of thallium sulfate solution (50 mM)

Each kit contains enough material for two (2) 96-well or 384-well microplates. Each vial is sufficient for one (1) microplate experiment.

(R8330)
---
We Also Recommend