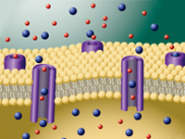 FLIPR Membrane Potential Assay Kit
---
---
Please note: All purchases should be limited to United States.
For complete Terms and Conditions, please click here.


---
The FLIPR® Membrane Potential Assay Kits deliver homogenous fluorescence-based formulations for observation of real-time membrane potential changes associated with ion channel activation and ion transporter proteins.
Each homogeneous assay kit utilizes a proprietary indicator dye and quencher combination to maximize cell line/channel/compound applicability, while eliminating causes of data variability. This unique formula responds 10 times faster and has greater temperature stability than traditional dyes, providing high quality screening data that shows good correlation with manual patch clamp assays.

Because ion channel activity is highly sensitive and potentially impacted by subtle chemical changes, two FLIPR® Membrane Potential Assay Kits (Red and Blue) are available to select the optimal conditions for your delicate ion channel targets. Both formulations utilize Molecular Devices proprietary quench technology to enhance signal windows and yield acceptable Z-scores to screen a variety of targets, including TRP, ligand-, cyclic nucleotide- and voltage-gated channels.

Unlike traditional dyes such as DiBAC, FLIPR Membrane Potential Assay Kit detects bidirectional gradient changes so you can monitor both variable and control conditions within a single experiment. We recommend evaluating both assay kits to discern which formulation is right for your target.
Available Configurations:
 Configuration
Description
RED Kit Part Number
BLUE Kit Part Number

Explorer Kit

(10) vials of component A* for Blue or Red
(1) bottle of 1x assay buffer(Component B)

*  Each reagent vial (Component A) is sufficient for 1 plate (96-, 384-, 1536-well). Each kit is sufficient for 10 plates.

(R8126)

(R8042)

Bulk Kit

(10) vials of component A* for Blue or Red
(1) bottle of 10x assay buffer(Component B)

*  Each reagent vial (Component A) is sufficient for 10 plates (96-, 384-, 1536-well). Each kit is sufficient for 100 plates.

(R8123)

(R8034)

Evaluation Kit

(5) vials of component A* for Blue
(5) vials of component A* for Red
(1) bottle of 1X assay buffer (Component B)

* Each reagent vial (Component A) is sufficient for 1 plate (96-, 384-, 1536-well). Each kit is sufficient for 10 plates.

R8128

R8128

Sample Kit

(2) vials of component A* for Blue or Red

(1) bottle of 1X assay buffer (Component B)

* Each reagent vial (Component A) is sufficient for 1 plates (96-, 384-, 1536-well). Each kit is sufficient for 2 plates.

(R6136)

(R6135)

Sample Evaluation Kit

(1) vial of component A* for Blue
(1) vial of component A* for Red

(1) bottle of 1X assay buffer (Component B)

* Each reagent vial (Component A) is sufficient for 1 plates (96-, 384-, 1536-well). Each kit is sufficient for 2 plates.

R6137

R6137
---
We Also Recommend