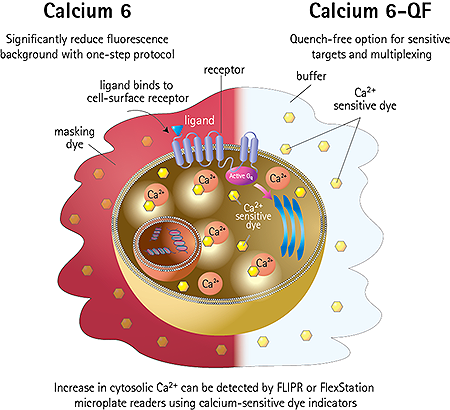 FLIPR Calcium 6-QF Assay Kit
---
---
Please note: All purchases should be limited to United States.
For complete Terms and Conditions, please click here.


---
This exclusive fluorophore features the highest quantum yield of any calcium indicator on the market, delivering the greatest signal window available in a calcium assay kit. The substantial increase in signal amplitude helps to rekindle low signal screens; including endogenous, primary or stem cell targets. Additionally, the novel dye is unaffected by organic anion exchange proteins, enabling measurement with minimal to no probenecid present.
The quench-free (QF) formulation is ideal for quench sensitive targets or assays requiring multiplexing of calcium-flux and luminescent assays within one well.
Key Assay Features and Benefits
Maximizes fluorescent signal from a wide range of cell types by reducing cell wash artifacts
Reduces well-to-well variability, improving assay quality (Z' factor) and reliability (CV %) of high-throughput screens
Universal mix-and-read protocol accelerates assay workflow and increases throughput
Superior signal-to-noise ratio facilitates confirmation of endogenous or transiently transfected receptor activity during assay development
Pre-optimized and validated protocols for the FLIPR® Tetra and FlexStation® Systems ensure you can navigate both routine and unconventional cell lines and targets
Available Configurations:
 Configuration
Description
Part Number

Explorer Kit

(10) vials of component A*
(1) bottle of dilution buffer (Component B)
(10) vials of component C

*  Each reagent vial (Component A, C) is sufficient for 1 plate (96-, 384-, 1536-well). Each kit is sufficient for 10 plates.

(R8192)

Bulk Kit

(10) vials of component A*
(10) vials of component C

*  Each reagent vial (Component A, C) is sufficient for 10 plates (96-, 384-, 1536-well). Each kit is sufficient for 100 plates.

(R8193)

Express Kit

(2) vials of component A*
(2) vials of component C

* Each reagent vial (Component A, C) is sufficient for 50 plates (96-, 384-, 1536-well). Each kit is sufficient for 100 plates.




(R8196)
---
We Also Recommend