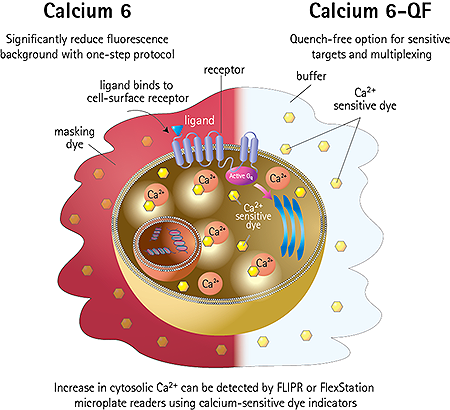 FLIPR® Calcium 6 Assay Kits
---
---
Please note: All purchases should be limited to United States.
For complete Terms and Conditions, please click here.


---
This exclusive fluorophore features the highest quantum yield of any calcium indicator on the market, delivering the greatest signal window available in a calcium assay kit. The substantial increase in signal amplitude helps to rekindle low signal screens; including endogenous, primary or stem cell targets. Additionally, the novel dye is unaffected by organic anion exchange proteins, enabling measurement with minimal to no probenecid present.
Key Assay Features and Benefits
Maximizes fluorescent signal from a wide range of cell types by reducing cell wash artifacts
Reduces well-to-well variability, improving assay quality (Z' factor) and reliability (CV %) of high-throughput screens
Universal mix-and-read protocol accelerates assay workflow and increases throughput
Superior signal-to-noise ratio facilitates confirmation of endogenous or transiently transfected receptor activity during assay development
Pre-optimized and validated protocols for the FLIPR® Tetra and FlexStation® Systems ensure you can navigate both routine and unconventional cell lines and targets
Available Configurations:
 Configuration
Description
Part Number

Sample Kit

(2) vials of component A*
(1) bottle of dilution/assay buffer (Component B)

* Each reagent vial (Component A) is sufficient for 1 plate (96-, 384-, 1536-well). Each kit is sufficient for 2 plates..

(R6133)

Evaluation Kit

(3) vials of component A* for Calcium 6 assays 
(3) vials of component A for Calcium 6-QF assays
(1) bottle of dilution/assay buffer (Component B)
(3) vials of component C

* Each reagent vial (Component A, C) is sufficient for 1 plate (96-, 384-, 1536-well). Each kit is sufficient for 3 Calcium 6 assay plates and 3 Calcium 6-QF assay plates.

(R8194)

Explorer Kit

(10) vials of component A*
(1) bottle of dilution/assay buffer (Component B)

* Each reagent vial (Component A) is sufficient for 1 plate (96-, 384-, 1536-well). Each kit is sufficient for 10 plates.




(R8190)

Bulk Kit

(10) vials of component A*
Order 10x dilution/assay buffer (Component B)  concentrate R7055 separately 

* Each reagent vial (Component A) is sufficient for 10 plates (96-, 384-, 1536-well). Each kit is sufficient for 100 plates

(R8191)

Express Kit

(2) vials of component A*
Order 10x dilution/assay buffer (Component B)  concentrate R7055 separately 

* Each reagent vial (Component A) is sufficient for 50 plates (96-, 384-, 1536-well). Each kit is sufficient for 100 plates.




(R8195)
---
We Also Recommend