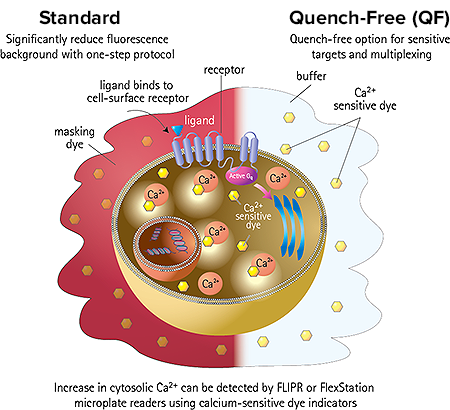 FLIPR® Calcium 4 Assay Kits
---
---
Please note: All purchases should be limited to United States.
For complete Terms and Conditions, please click here.


---
FLIPR Calcium 4 Assay Kit novel masking dye enhances signal-to-noise ratio.   Reduced background in the FLIPR Calcium 4 Assay Kit leads to improved ΔF/F0 values in an assay with especially small calcium response (endogenous response to carbachol in HEK 293 cells). 
Available Configurations:
 Configuration
Description
Part Number

Explorer Kit

(10) vials of Component A*
(1) bottle of dilution/assay buffer (Component B)

*  Each reagent vial (Component A) is sufficient for 1 plate (96-, 384-, 1536-well). Each kit is sufficient for 10 plates.

(R8142)

Bulk Kit

(10) vials of Component A*
Order 10x dilution/assay buffer (Component B)  concentrate R7055 separately

*  Each reagent vial (Component A) is sufficient for 10 plates (96-, 384-, 1536-well). Each kit is sufficient for 100 plates.

(R8141)

Express Kit

(2) vials of Component A*
Order 10x dilution/assay buffer (Component B) (R7055) seperatly

* Each reagent vial (Component A) is sufficient for 50 plates (96-, 384-, 1536-well). Each kit is sufficient for 100 plates.




(R8143)
---
We Also Recommend