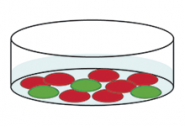 EarlyTox Live Cell Assay Kit
---
---
Please note: All purchases should be limited to United States.
For complete Terms and Conditions, please click here.


---
This kit enables the detection of the live population of mammalian cells using a fluorescence microplate reader based on the integrity of the cell membrane and the intracellular esterase activity. Calcein AM is a widely used live-cell marker. The non-fluorescent calcein AM permeates the intact cell membrane and is converted into calcein, the fluorescent form, by intracellular esterases. The number of live cells is therefore indicated by the intensity of green fluorescence in the cytosol, with excitation at 495 nm and emission at 530 nm. The low cellular toxicity of calcein AM also enables long-term cell tracing, and cell proliferation assay.
Available Configurations:
 Configuration
Description
Part Number

Explorer Kit

(1) vial of Calcein AM (4 mM, 30 µL)



Each kit contains enough material for two (2) 96-well or 384-well microplates.

(R8342)

Bulk Kit

(3) vials of Calcein AM (4 mM, 50 µL)

Each kit contains enough material for ten (10) 96-well or 384-well microplates.

(R8343)
---
We Also Recommend