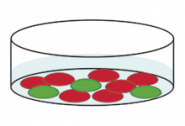 EarlyTox Caspase-3/7 R110 Assay Kit
---
---
Please note: All purchases should be limited to United States.
For complete Terms and Conditions, please click here.


---
This kit enables analysis of apoptosis based on caspase-3/7 activity and its consensus target sequence, Asp-Glu-Val-Asp (DEVD). Caspase-3 and caspase-7 are proteases that are activated during the execution phase of apoptosis. This kit provides a single-step, homogenous assay that is specifically designed for microplate readers. The fluorogenic substrate (Ac-DEVD)2-R110 contains two DEVD consensus target sequence and is completely hydrolyzed in cell lysate by the enzymes. Hydrolysis of both DEVD peptides releases the green fluorescent dye R110, resulting in a substantial fluorescence increase, with excitation at 490 nm and emission at 520 nm. The assay kit includes the competitive caspase-3/7 inhibitor Ac-DEVD-CHO for use as a negative control. R110 is also provided in the kit for generating a standard curve, which can be used for quantifying caspase-3 activity.  
Available Configurations:
 Configuration
Description
Part Number

Explorer Kit

(1) vial of Rhodamine 110 (80 µM, 1 mL)

(2) vials of caspase-3 inhibitor (5 mM, 20 µL)

(2) vials of DEVD-R110 (2 mM, 500 µL)

(2) vials of lysis buffer (10 mL)



Each kit contains enough material for two (2) 96-well or 384-well microplates.

(R8346)
---
We Also Recommend