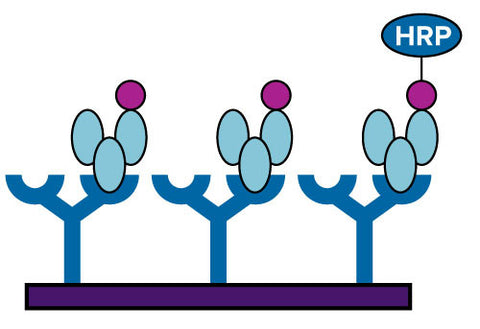 CatchPoint cGMP Fluorescent Assay Kit
---
---
Please note: All purchases should be limited to United States.
For complete Terms and Conditions, please click here.


---
The CatchPoint® cGMP Fluorescent Assay Kit's high-affinity reagents are optimized for sensitivity and precision in applications where cGMP levels are low. A single wash step removes unbound material prior to the development step, so the assay is very resistant to interference from colored or fluorescent test compounds. The proprietary Stoplight Red substrate is used to generate a stable fluorescent readout, allowing the assay to be read in as little as 10 minutes or up to 24 hours after substrate addition.
Benefits of CatchPoint cGMP Fluorescent Assay Kit
High affinity reagents are optimized for sensitivity when cGMP levels are low, ensuring results when other assays fail
Robust format resists interference from colored or fluorescent compounds, improving reliability of results
Rapid signal development (< 10 min) and no termination step give users a flexible read time that is compatible with automation and high-throughput screening
Quantitative method allows accurate determination of cGMP in samples
Available Configurations:
 Configuration
Description
Part Number

96-Well
Explorer Kit

Two (2) 96-well black well/ clear bottom plates

100 mL ELISA Assay Buffer

1 vial Rabbit Anti-cGMP Antibody

1 vial cGMP Calibrator

1 vial HRP-cGMP Conjugate

100 mL, 10X Wash Solution Concentrate

50 mL Cell Lysis Buffer

1 vial 100X Substrate

100 mL Substrate Buffer

(R8074)

96-Well
Bulk Kit

Ten (10) 96-well black well/ clear bottom plates

950 mL ELISA Assay Buffer

2 vials Rabbit Anti-cGMP Antibody

2 vials cGMP Calibrator

2 vials HRP-cGMP Conjugate

950 mL, 10X Wash Solution Concentrate

450 mL Cell Lysis Buffer

2 x 900 µL 100X Substrate

950 mL Substrate Buffer

(R8075)

384-Well
Explorer Kit

Two (2) 384-well black well/ clear bottom plates

100 mL ELISA Assay Buffer

2 vials Rabbit Anti-cGMP Antibody

2 vials cGMP Calibrator

2 vials HRP-cGMP Conjugate

100 mL, 10X Wash Solution Concentrate

50 mL Cell Lysis Buffer

1 vial 100X Substrate

100 mL Substrate Buffer

(R8065)
---
We Also Recommend