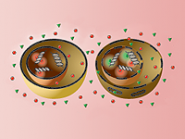 EarlyTox Cell Integrity Kit
---
For more information on assay kit and instrument compatibility, please click here.
---
Please note: All purchases should be limited to United States.
For complete Terms and Conditions, please click here.


---
The EarlyTox Cell Integrity Kit is an optimized set of reagents that simplifies the identification of live and dead cells. It can be used to measure the effects of different treatments on cell viability and to evaluate toxic effects mediated through a variety of mechanisms, including apoptosis and necrosis. The kit is designed to work with many cell types, both adherent and non-adherent. The protocol's simple workflow and reagent performance make it amenable to high-throughput screening.
    Higher signal allows shorter exposure times for fast results
    Designed to work with many cell types
    Streamlined image acquisition and analysis on a single system
Available Configurations:
 Configuration
Description
Part Number

Explorer Kit

(2) Reagent vials (one red, one green)*





*Sufficient for (2) 96- or 384-well plates

(R8213)

Bulk Kit

(2) Reagent vials (one red, one green)**

 

**Sufficient for (10) 96- or 384-well plates

(R8214)

EarlyTox Live Green Dye

*Sufficient for (2) 96- or 384-well plates

(R8215)

EarlyTox Dead Green Dye

*Sufficient for (2) 96- or 384-well plates

(R8216)

EarlyTox Live Red Dye

*Sufficient for (2) 96- or 384-well plates

(R8217)
---
We Also Recommend