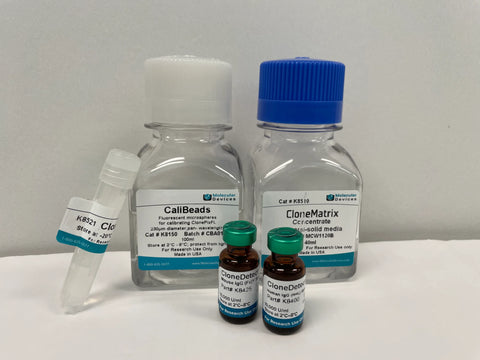 ClonePix Welcome Kit B (for non-CHO Users)
---
---
Please note: All purchases should be limited to United States.
For complete Terms and Conditions, please click here.


---
CloneMatrix™ is an easy-to-use product that converts existing mammalian cell biology media to semi-solid form. Semi-solid media maintains the positional integrity of growing cell colonies, thus allowing the automated identification and picking of clonal cell lines.
The use of semi-solid media combined with the unique fluorescent screening and picking technology of the ClonePix System will revolutionize clonal cell line development in biopharmaceuticals.

CloneMatrix is a unique methylcellulose concentrate that allows users to add their own media formulation to produce an optimized semisolid media reagent.
CloneMatrix is conveniently supplied as 40 mL in a 100 mL bottle, reducing the risk of contamination as there is no requirement to aliquot the concentrate. Supplied as a 2.5x concentrate, simply add optimized media (2x concentration) selection and supplements as required.
CloneXL is a 50x-concentrated cell growth supplement proven to improve mammalian cell survival and support CHO, HEK293, stem cell clone screening, and single-cell cloning applications. It contains amino acids and thymidine family members with patented formulation.
Kit (PN# K9001) includes:

1 bottle of CloneMatrix
1 vial of Human CloneDetect
1 vial of Mouse CloneDetect
1 vial of CloneXL 50x Concentrated Animal Component-Free Supplement
1 bottle of ClonePix Calibeads
---
We Also Recommend