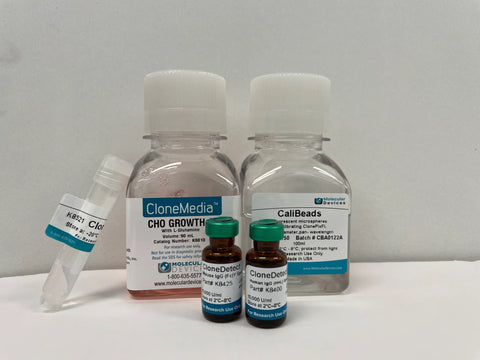 ClonePix Welcome Kit A (for CHO Users)
---
---
Please note: All purchases should be limited to United States.
For complete Terms and Conditions, please click here.


---
Are you already a CHO Cell user? The CHO Growth A media portfolio provides a fast, simple, and comprehensive solution for CHO cell line development. Combined with the CloneDetect detection agent, CloneSelect® Imager, and ClonePix® 2 System, researchers can more efficiently develop new protein-producing CHO cell lines, thus accelerating time-to-market.
Optimized for high recombinant protein production
Ready-to-use culture media and supplements are free of animal components
Enhanced optical quality for colony imaging
One-step fast screening and selection of high-value clones
Kit (PN# K9000) includes:

1 bottle of CHO growth A without L-Glutamine
1 vial of Human CloneDetect
1 vial of Mouse CloneDetect
1 vial of CloneXL 50x Concentrated Animal Component-Free Supplement
1 bottle of ClonePix Calibeads
---
We Also Recommend