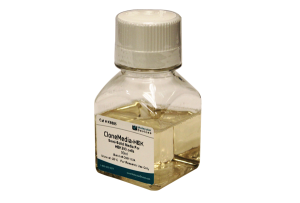 CloneMedia-HEK (semi-solid media for HEK cells)
---
---
Please note: All purchases should be limited to United States.
For complete Terms and Conditions, please click here.


---
CloneMedia is a complete semi-solid media for the growth and isolation of mammalian cell colonies. The use of CloneMedia ensures formation of discrete, clonal colonies with cell lines such as hybridoma, CHO, CHO-S, CHOK1 and others.
 Click here for more information on CloneMedia
Available Configurations:
| | | |
| --- | --- | --- |
|  Description | Configuration | Part Number |
| CloneMedia-HEK (semi-solid media for HEK cells) | 1 x 90 mL | K8685 |
| CloneMedia-HEK (semi-solid media for HEK cells) | 6 x 90 mL | K8680 |
---
We Also Recommend
---
We Also Recommend