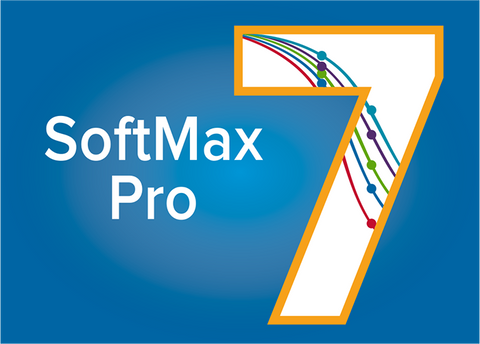 SoftMax Pro 7 Standard Software
---
---
Please note: All purchases should be limited to United States.
For complete Terms and Conditions, please click here.


---
Unleash the power of SoftMax® Pro 7 Data Acquisition and Analysis Software. With over 170 ready-to-run experimental protocols, 21 curve fit options, analysis algorithms, and custom data reporting, SoftMax Pro is the full solution from data acquisition to analysis to publishing.
Read and analyze data from a Molecular Devices microplate reader or import from another data source using the new SoftMax Pro Import Feature, which is available as a subscription based add-on to SoftMax Pro 6.4.1 or higher.
Whether you are quantifying nucleic acids and protein or setting up a compound screen to determine IC50 values and relative potency by parallel line analysis, SoftMax Pro provides the simplicity needed for new users as well as the refined computational control needed for complex data analysis, LIMS and robotics integration.     
If you would prefer to obtain a new copy of SoftMax Pro via purchase order, please contact om@moldev.com to obtain a quote.
 SoftMax Pro 7 Standard Software

Annual Subscription:

One year subscription to the latest version of SoftMax Pro 7. Includes one activation key, which expires after one year.  Annual renewal. 

Part number:
SMP7 PROF SUBSCR

Non-Expiring

Non-expiring license for the latest version of SoftMax Pro 7. Includes four activation keys.

 Part number:
SMP7 PROF
Recommended Computer Configuration for SoftMax Pro 7:
Windows 7 SP1 (32-bit or 64-bit) or Windows 8 (32-bit or 64-bit) or Windows 10 (32-bit or 64-bit)

Quad core CPU
USB 2.0 ports
4 GB RAM
At least 1 GB of free hard disk space
32-bit graphics display with 256 MB video RAM
1280x1024 or higher-resolution display
FlexStation 2, SpectraMax L, LMax I & 11, THERMOmax, UVmax, and SpectraMax 250 are not supported by SoftMax Pro® 7 

Special pricing for verified academic institutions.  
 To take advantage of our academic discount for SoftMax Pro, please contact
your local sales representative or call 1-800-635-5577 to place your order.
For contact numbers outside the US, please visit our contact page.
---
We Also Recommend